Please note: The Coral Football Jackpot is not currently running. We hope it makes a return and will update this page as and when that happens.
Football is arguably the most popular sport to bet on worldwide, and Coral provide a wide range of football odds and markets for their customers. Coral football markets are offered on leagues from across the globe, from the English Premier League to the UAE Arabian Gulf League. Why Bet with Coral? Thanks to their ongoing commitment to give all football fans the biggest and best variety of different betting markets and betting opportunities on football matches being played all over the world, at any time of the year, you will always find the exact type of bet you want to place at Coral. Coral offers many betting opportunities, including Football Coupons on UK Matches, International Matches, European Matches, Tomorrow's Matches, etc. UEFA Champions League The Champions League is a quite famous event that is held each Football season and determines the champion among the best clubs across many countries.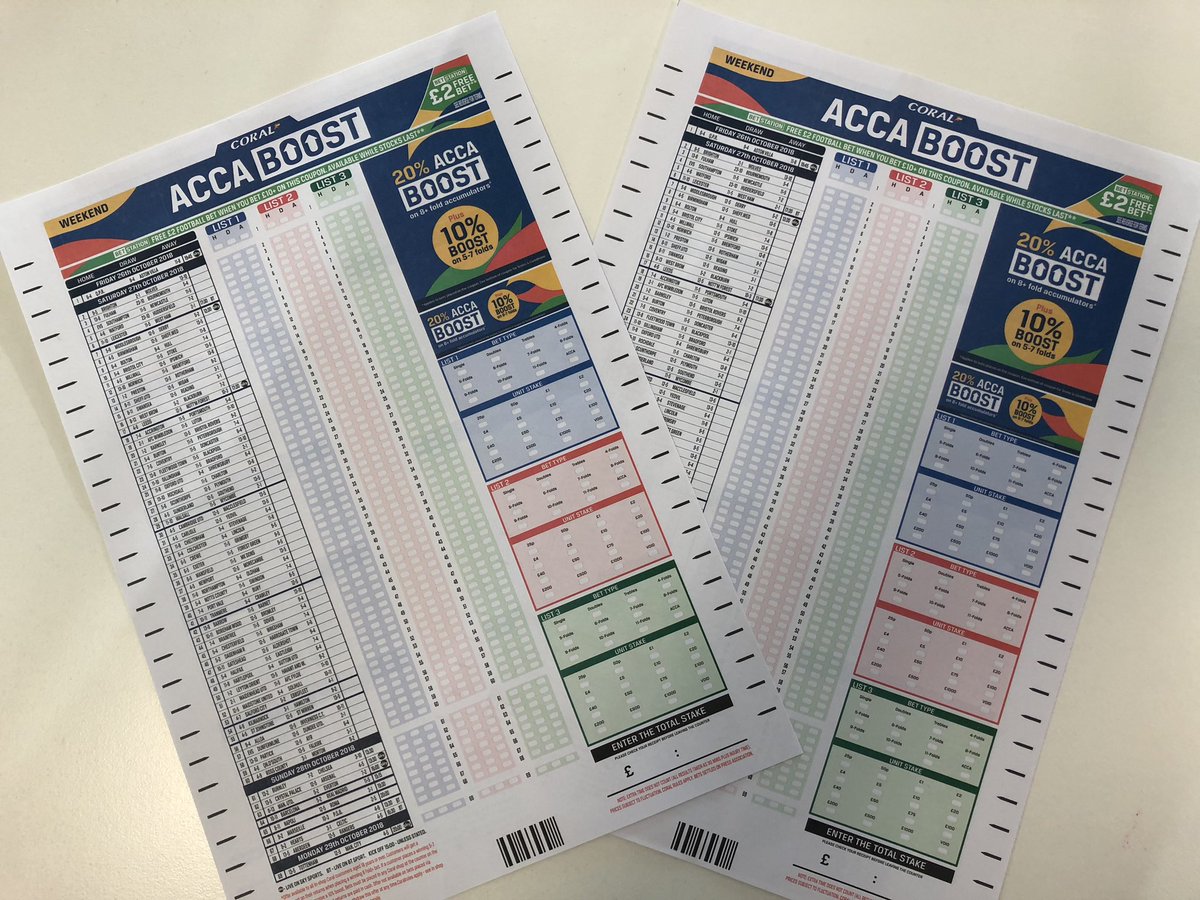 The Coral Football Jackpot started at the beginning of the 2013-2014 football season with the first match on the first coupon kicking off at 3pm on Saturday 17th August 2013. For the launch the first jackpot win was guaranteed to be at least £1m, after which it was reset to the normal weekly minimum of £100,000.
Just like the lottery, each week there is no winner the prize fund rolls over to the next week and the jackpot regularly exceeds the initial £1m prize. To date, the biggest jackpot came in December 2014 where several rollovers pushed it to an incredible £1.9m.
How it Works
In order to win you must predict the correct result (home win, draw or away win) of 15 nominated games – get all 15 right to land the jackpot, or a share of it if more than one person wins.
There are also consolation prizes for 13 or 14 correct results which award five or even six figure payouts, depending on how big the prize fund is at the point of the win.
It costs just £1 to play and you can either select the 15 results yourself or simply let Coral do it for you, a bit like a lucky dip on the lottery. Of course, with 15 games to predict you'll need a little luck but if there are some matches you think are just too close to call, you can play multiple lines and select different options on the toughest games.
Postponed & Cancelled Matches
Gogy games. The jackpot is based on successfully picking the result of 15 matches, but what happens when one of those games is postponed or cancelled?
The rules in this scenario are quite simple: the coupon goes ahead as normal with the jackpot being paid out to whoever gets all of the results correct.
However, in this scenario only money from that week will be paid out in prizes, any rollover jackpot will be carried forward to the next full set of fixtures.
The Week of 13 Games
It wasn't always this way though and after the first couple of months, which netted only one significant win (the barmaid who won £52k for getting 14/15 from a lucky dip – see below), everybody was still waiting for somebody to claim that £1,000,000 prize.
The folks at Coral must have been itching for somebody to win it because for one week, thanks to a couple of postponed games, they made it easier to win – with only 13 correct predictions needed to seriously be in the money.
The way it worked was quite simple, if you look at the Football Jackpot Slip you'll notice that there are still 15 selections, but the two postponed games – Bristol City v Shrewsbury and Leyton Orient v Notts Co – were given away as freebies, so no matter what you put in that column it'll be an automatic win.
The two consolation dividends (normally given for getting 14 or 13 results correct) were also a bit easier in that weeks coupon – meaning that you'll prizes were paid out for getting just 11 or more right.
And before you start arguing in the pub about whether buying every combination would not only guarantee you to win but also return a tidy profit, we should let you know that there are still 1,594,323 possible combinations (Coral aren't daft).
Noteable Wins & The £1 Million Jackpot Winner
Whilst the jackpot is now a regular staple of the weekly football coupons, when it first launched there were many weeks of nail biting anticipation over who would take home the first £1m prize. The jackpot was eventually won after someone bought 35 thousand entries, a literal gamble that paid off handsomly. More details are below, but first, a lucky barmaid who netter herself fifty grand on a £1 lucky dip.
£52k Lucky Dip
The first person to land a sizeable sum from the jackpot was mum-of-seven Kate Muir who got lucky to the tune of £52,000. Whilst the Scottish barmaid will no doubt be happy with her £52,000 and will be dreaming of new cars, fancy holidays and maybe even clearing the mortgage, there might just be a tinge of regret too. Kate was just one single goal away from scooping the £1m top prize.
Had Norwich managed to draw with Hull instead of going down 1-0 then she would have won the seven figure jackpot, but somehow 10-man Hull held on. The barmaid at the Plean Tavern said she hadn't realised how close she came and was just delighted when Man United and Chelsea played out a draw on Monday night as that result took her win from £8,000 – not bad for a weekend's betting – to the staggering £52k she ended up with.
What's even more amazing is that Kate's £1 bet was a lucky dip, generated by Coral's random Football Jackpot computer (see below image). She said that she's "not much of a punter" and is planning a holiday with her children and four grandkids. We hope they treat their Granny well!
Kate Muir's winning lucky dip selections that won her a cool £52k
The Million Pound Win (By a Rival Jackpot Firm)
After weeks of nail biting anticipation (and a fair few quid thrown at it from our end), the Coral Football Jackpot has finally been won on Monday 28th October 2013 – netting one lucky punter a cool million pounds for correctly predicting the outcome of 15 football matches.
The news broke last night on twitter with Coral tweeting the win within minutes of the final whistle of the 15th game:
In a strange twist of fate, the lucky winner was from rival football jackpot company Colossus Bets – who offer a £10m jackpot to anyone who can predict the correct scores of 7 games.
The guys from Colossus Bets obviously meant business as they bought a whopping 34,992 lines for this weeks jackpot, covering many many permutations – here's their bet in full (correct selections in green):
Aston Villa v Everton – Home/Draw/Away
Liverpool v West Brom – Home
Manchester United v Stoke City – Home
Norwich v Cardiff – Home/Draw/Away
Blackpool v Blackburn – Home/Draw/Away
Bolton v Ipswich – Home/Draw/Away
Barcelona v Real Madrid – Home/Draw
Southampton v Fulham – Home/Draw
Partick v Celtic – Away
Sunderland v Newcastle – Home/Draw/Away
Charlton v Wigan – Home/Draw/Away
Chelsea v Man City – Home/Draw/Away
Swansea v West Ham – Home/Draw
Tottenham v Hull – Home
Brighton v Watford – Draw/Away
Their coupon cost them a massive £34,992, but landed them £1,000,000 – which works out as a payout of roughly 28.5/1. The cheeky scamps from Colossus Bets even took the opportunity to rub it in a little by inviting the boys at Coral to have a crack at their jackpot next week.
Now that the promotional £1m jackpot has been won, Coral's prize reverts to the standard format – with the winnings related to the number of entrants and winners (just like the lottery). But fear not, even though the million has been taken the jackpot should still reach some fairly life changing six figure amounts.